Synopsis
Dion De Rossi and Rooster X-Ray are supposed to be studying for tomorrow's exam but they're both horny. Dion has a solution but things don't work out quite as planned. If nothing else, Roo totally masters the oral examination.
About The Film
This fun scene was shot in Berlin the day after the Berlin Porn Film Festival. It aims to be a playful celebration of female orgasm. The film is a short version of a much longer scene.
It appears at BrightDesire.com
Starring: Rooster X-Ray, Dion De Rossi
Winner, Sexiest International Film, Toronto International Porn Festival 2018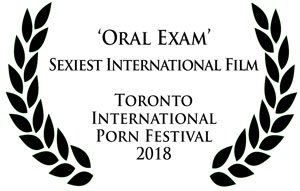 Format
Shot in HD, PAL 16:9 ratio
Running time: 7:14 minutes.