Synopsis
A whimsical, sex positive look at the many wonderful  ways we can say Yes to each other. Inspired by the recent marriage equality vote in Australia, this film is a celebration of acceptance and consent.
About The Film
In September 2017, the Australian government held a non-compulsory, non-binding postal survey about same-sex marriage. The next two months saw a torrent of homophobic misinformation and abuse from the "No" Campaign. This film is a response to that; a positive statement of love and support to LGBTIQ family and friends, as well as a light-hearted ode to consent.
The film was shot quickly during the PornFilmFestival in Berlin in October 2017, before the result of the survey was known. The cast is an ensemble of well-known queer adult performers from Europe, the USA and Australia.
It appears at BrightDesire.com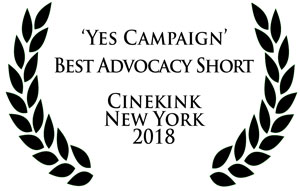 Winner: Best Advocacy Short, Cinekink NY, 2018
Format
Shot in HD, PAL 16:9 ratio
Running time: 8:14 minutes.
Starring: Bishop Black, Dante Dionys, Dion De Rossi, Jiz Lee, Kali Sudhra, KAy Garnellen, Leo, Lilith Jovian, Lina Bembe, Luke, Nichole Shae, Parker Marx, Rooster X-Ray, Sadie Lune.
Nuit Raunch Winnipeg 2019
September 2019
Porn Film Festival Vienna 2019
April 2019
Failed Films Festival 2018
November 2018
Berlin Porn Film Festival 2018
October 2018
East Bay Express Briefs, SF 2018
Toronto International Porn Festival, 2018
Cinekink NY 2018