Synopsis
Friends Kali and Parker take a risk and decide to make out for the first time. An incredibly sensual and slow encounter unfolds in which every breath and every moment is savoured. Linger celebrates taking your time and the joy of slow discovery.
About The Film
Adult performers Kali Sudhra and Parker Marx appear together for the first time in Linger. Shot in Berlin in October 2017, the original brief for the scene was to go as slowly as possible and to always ask before proceeding. The result is an incredibly sensual long scene with real intimacy between the performers. It's also an example of how erotic film can model consent and make asking sexy.
The short film is an edited version of the scene cut down for viewing at festivals.
Both the short and longer versions of Linger appear at BrightDesire.com
Format: Shot in HD, PAL 16:9 ratio
Running time: 8:06 minutes (shorter version – 6:23 minutes)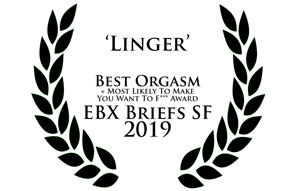 Winner: Best Orgasm Award and Most Likely To Make You Want To Fuck Award – East Bay Express Briefs Festival February 2019
Festival Screenings:
Athens Porn Film Festival Greece 2020
November 2020
Bean Flicks Film Festival Birmingham UK 2020
February 2020
East Bay Express Briefs February 2019
Cinekink New York March 2019
Seattle Erotic Cinema Society Festival September 2019