Honorable Mention, Cinekink NY Film Festival, 2015
Lucie Bee and Ryan James are hot for each other. But just when Lucie thinks she has the upper hand, Ryan takes control – and puts on a show for her.
This is erotica shot from an straight female perspective. The film includes a number of standard porn elements and re imagines them. Here the man is the object of desire; the woman does the looking. And yet he is in control of the situation. There's power play between these two lovers but it's interspersed with laughter and playfulness. This is "CFNM (Clothed Female, Naked Male)" as it should be.
Note: The Vimeo vid had to be totally re-edited because it was deemed to be too sexually-focused for that site.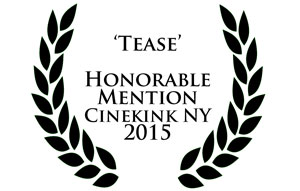 Official selection: Cinekink NY 2015,
Cinekink On The Road 2015,
Holy Fuck Film Festival Amsterdam 2015