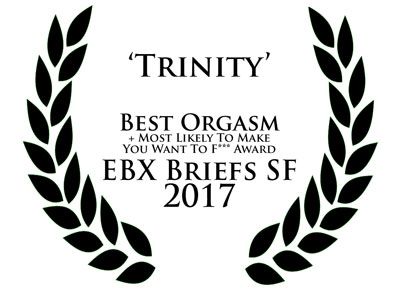 My new short film "Trinity" screened at EBX Briefs erotic film festival on 9th February 2017, along with "See Me". I'm please to say the film was given two merit awards – Best Orgasm and Most Likely To Make You Want To Fuck.
It's nice to know I'm making good erotic films. Naturally, the credit for both of these awards belongs to the performers – Parker Marx, Lina Bembe and Rooster. Their intense encounter lasted over an hour and a half and it was difficult to distill that much fun into 6 minutes.
Thanks to EBX Briefs for the award and the opportunity to screen my work.
Here's the trailer
Trinity: An Erotic Short Film – Trailer from Ms Naughty (Louise Lush) on Vimeo.