Indigo Lush is a small, one-woman production company working to make quality erotic films for straight women as well as unusual or amusing short films dealing with female sexuality.
The company aims to move beyond the cliched boundaries and limitations of most adult entertainment to create intelligent, realistic and sensual depictions of sex. I aim to give priority to female pleasure and a woman's point of view. My main targeted audience was originally straight women although that brief has expanded recently.
While Indigo Lush is accepting of all forms of sexuality including queer identities and kink, I'm also very keen on presenting "vanilla" straight eroticism without all the usual porn cliches. This is because this idea of sex is still rarely explored by filmmakers – even among the new wave of "indie" and feminist porn producers. Vanilla is often dismissed as too boring or mainstream to explore and yet it's the way the majority of people make love. I want to create films where "ordinary" sex is honoured as the sensual, intimate and powerful thing we all know it to be.
Indigo Lush is a trading name created in early 2009 prior to production of the first short film "That's What I Like." All work is copyright Baeronaut LLC.
Ms Naughty (aka Louise Lush)
Bio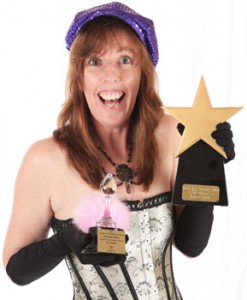 Director Ms Naughty (also known as Louise Lush) has been working as an adult webmistress since 2000. Since 2003 she has jointly run ForTheGirls.com an adult site for women. She took up filmmaking in 2008. She features all her films on BrightDesire.com
Ms. Naughty's erotic films have screened at numerous film festivals including Cinekink, The Berlin Porn Film Festival, Goodvibes Quickies, San Francisco Briefs, The Perverotic Film Festival and the Sexy International Film Festival. Her film "Dear Jiz" won Best Experimental Short at the 2014 Cinekink NY festival and "Tease" received an Honorable Mention the next year. Her film "Hand Jobs" won Best Cinematography at East Bay Express Briefs in 2016. She has also won 4 Feminist Porn Awards. In 2015 Bright Desire was an Honored Website and "Instructed" won Best BDSM Scene."Connections" and "Something Better: Performers Talk About Feminism And Porn" won Honorable Mentions in 2013 and 2014 respectively.
Ms. Naughty has a chapter about her career making online porn and "porn for women" in The Feminist Porn Book. She spoke on that topic at the Feminist Porn Conference in Toronto in April 2013 (video of the presentation is here). At the 2014 Feminist Porn Conference she screened several of her films and spoke on two panels: Feminist Porn: What It Is, What It Isn't and Why It Matters and Pornographers Without Borders. Her summary of that conference appeared in the September 2015 issue of the academic journal Porn Studies.
She has a chapter in Jiz Lee's Coming Out Like A Porn Star, discussing the stigma surrounding working in porn.
She also has had her erotic fiction published in Best Women's Erotica 2009 and 2012 (the latter under the name Louise Lush).
She wrote about her career for major women's blog MamaMia: "I make feminist porn." Her work is discussed in Anne Sabo's After Pornified: How Women Are Transforming Pornography and Why It Really Matters and Audacia Ray's Naked on the Internet: Hookups, Downloads and Cashing In On Internet Sexploration.
Prior to her erotic career Ms. Naughty was a freelance journalist, writing regularly for Australian Women's Forum. She was also a librarian for a major Australian media company.
She is married, child free and lives in a small country town surrounded by fundamentalist Christians.
Statement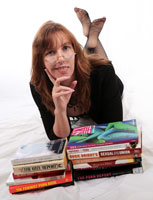 "Porn, erotica, art… call it what you like," she says. "My aim is to present sex in a realistic and sensual way. I want to give priority to the female gaze in my films; this means making the audience view things as a woman might.
"After working with porn for over 13 years, I've got strong ideas about the kind of images I want to see in erotic film. I'm very keen on avoiding all the cliches that make mainstream porn so dreadful. I want to see believable scenarios, decent acting, good looking guys and realistic, emotionally connected sex.
"I like romance as much as the next woman but I also understand that hot, down and dirty sex can be its own reward. Arousing the audience is one aim. I do, however, want to inspire, entertain and educate at the same time.
"I don't claim to make films that all women will like. I simply want to express my own vision and fantasies and to appeal to women like myself.
"I'm passionately opposed to censorship. Restrictive rules about 'obscenity' and about how real sex is presented in film, photos or other media mean that authentic explorations of human sexuality are ghettoised or stymied. Freedom of speech and freedom of expression should always include the right to depict sexuality. Adults should be free to see, read and hear whatever they want."
Ms Naughty is on Facebook and Twitter.
Contact her lush AT indigolush.com
Unslightly Pseudonym Buildup – Blog post on the change back to using Ms Naughty as a pseudonym rather than Louise Lush